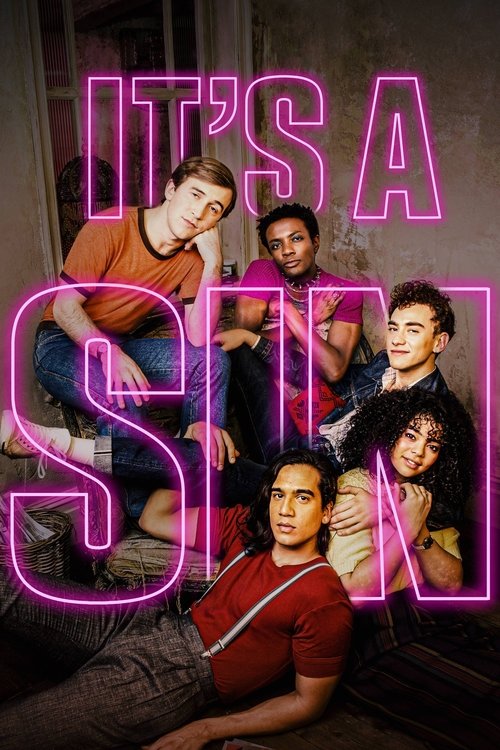 Watch It's a Sin in the UK
N/A / 10
Cast: Olly Alexander, Neil Ashton, Nathaniel Curtis, Omari Douglas
Seasons
Where to watch It's a Sin
What is It's a Sin about?
A chronicle of four friends during a decade in which everything changed, including the rise of AIDS.
Which streaming services can you watch It's a Sin on
Here is the comprehensive list of streaming services that will show It's a Sin in the UK. If It's a Sin will appear with other services further down the line, this table will be updated.
Services
All 4

Yes

Amazon Prime

No

Apple TV+

No

BBC

No

Chili

No

Disney+

Yes

iTunes

Yes

ITV

No

Netflix

Yes

Now TV

No

Sky Go

Yes
---
More Comedy movies like It's a Sin
It's a Sin is a great Comedy movie, we've selected several other movie options that we think you would like to stream if you have watched It's a Sin
More comedy tv shows like It's a Sin
It's a Sin is a great comedy show, we've selected several other show options that we think you would like to stream if you have watched It's a Sin
---
Streaming on All 4
Channel 4 is the home of cultural TV and comedy in terms of terrestrial TV. All 4 is a way to catch up on Channel 4 content on your TV, laptop or mobile. It's easily o of the most-watched streaming platforms in the UK and home to hit series like Bake Off and Gogglebox.
Watch on All 4
Got a question about All 4?
All 4 is Channel 4's On Demand platform where you can watch everything from Dispatches and Taskmaster to Bake Off and Live Sport.
All 4 is not available overseas due to broadcast rights and regulations.
iPlayer is definitely broader in terms of content and therefore better for families or those who like a little of everything. It could be argued that All 4 have a better selection of culture and comedy series.
Benefits
It's free
Great comedy, investigative journalism and documentaries
Stream in HD
Watch Terrestrial TV On Demand
Streaming on BritBox UK
The box set is a mega collaboration between two of the biggest entertainment providers in the UK: BBC and ITV. Expect an unlimited access to the very best content available in Britain.
Watch on BritBox UK
Got a question about BritBox UK?
Yes. As soon as an episode of, say EastEnders, is aired, the content is available for streaming within one hour.
BritBox has arguably the best collection of British shows and movies available online. Thanks to the collaboration between the BBC and ITV.
While SKYGo has its own impressive catalogue for viewers, BritBox perhaps edges all competition with their library and access.
Benefits
An unparalleled access to the best shows and movies.
Fans of both BBC and ITV can find their favourite shows here.
7 day free trial.
More information about BritBox UK
Streaming on Disney+
Disney+ literally is – virtually everything Disney laid out ready to watch On Demand. From Classic Movies and cartoons to everything Marvel and Star Wars. It is prime streaming for families of all ages.
Watch on Disney+
Got a question about Disney+?
As well as award-winning films like Star Wars, Toy Story and Soul, Disney+ offers must-watch series like The Mandalorian, Wandavison and High School Musical: The Series.
Disney+ can be bundled with Sky TV or an O2 phone contract. Disney+ can also be accessed via Apple TV.
Disney+ is much more family orientated than Netflix. You're less likely to come across series and films that deal in gore and violence, for example. Price-wise they're both very similar.
Benefits
One-stop-shop for Disney content including Marvel, Star Wars and Pixar.
Both HD and 4K Quality.
Stream on multiple devices at once.
Short or long term subscription plans.
More information about Disney+
Rent or Stream with iTunes.
With iTunes, you can rent or or buy your favourite shows and movies and watch them across all your linked devices be it iOS or Android powered.
Watch on iTunes
Got a question about iTunes?
You can access content in two ways. You can rent content for a limited period of time, during which you can watch whenever you want. Or you can buy content which will put it into your library and you will be able to watch as many times as you want whenever you want.
No, iTunes is not a streaming service. There is no on-going subscription to be paid, or varying levels service. Simply pay for what you want to watch and you can watch it straight away. This is great for the odd show or movie that your other streaming subscriptions do not have.
Streaming on Netflix
Netflix is one of the true originals when it comes to online streaming. They have a huge catalogue of TV Shows, Movies, Kids TV and Documentaries that include both classic and original content.
Watch on Netflix
Got a question about Netflix?
Netflix doesn't reveal the size of its ever-changing library, but it's estimated to have around 6,000 titles available to stream. It's one of the most popular streaming providers in the UK thanks to series such as Sex Education, The Crown and Bridgerton.
If you're a Sky, BT or Virgin customer, you can easily add Netflix to your existing monthly bill. Like standard Netflix customers, you're free to cancel the service whenever you want.
It could be argued that Netflix has a little more for the whole family. Kids TV and movie selections, in particular, are very strong compared to Amazon. However, Netflix does not have live sports like its American counterpart.
Benefits
Some of the most popular series on the planet
A diverse range of content for the whole family
Month-to-month billing structure – no long contracts!
Available in HD and 4K
More information about Netflix
Good to know
No It's a Sin is not available on Amazon Prime.
No It's a Sin is not available on Apple TV+.
No It's a Sin is not available on BBC.
No It's a Sin is not available on Chili.
No It's a Sin is not available on Disney+.
No It's a Sin is not available on iTunes.
No It's a Sin is not available on ITV.
No It's a Sin is not available on Netflix.
No It's a Sin is not available on Now TV.
No It's a Sin is not available on Sky Go.
| | |
| --- | --- |
| | We only use necessary cookies to make CompareTV work for you and ensure its security, management, and accessibility. We would also like to use statistics and marketing cookies to help us to improve our services. For more information about the cookies we use, please see our Cookie Policy. |