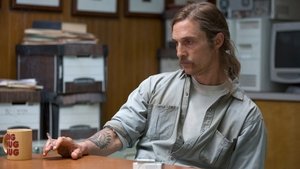 Episode 1
The Long Bright Dark
Former Louisiana State CID partners, Rustin Cohle and Martin Hart, give statements to a pair of investigators about the murder of a prostitute that took place 17 years earlier.
1 h 3 mins · Sun, 12 Jan 2014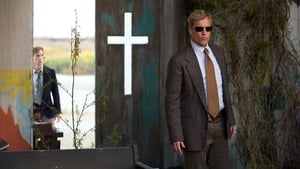 Episode 2
Seeing Things
Quesada warns Hart and Cohle that they may be replaced by an occult-crimes task force; the pair follows a lead to a rural cathouse and an incinerated church; Hart finds respite away from home.
1 h 2 mins · Sun, 19 Jan 2014
Episode 3
The Locked Room
Parishioners identify a scarred man seen with Dora Lange; a sex offender is brought in for interrogation; Maggie sets Cohle up with a friend; Cohle looks over old case files.
1 h 2 mins · Sun, 26 Jan 2014
Episode 4
Who Goes There
Hart and Cohle follow a series of leads in an effort to track down their prime suspect.
1 h 1 mins · Sun, 9 Feb 2014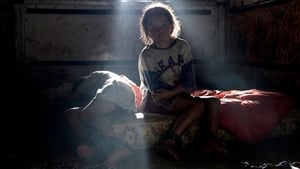 Episode 5
The Secret Fate of All Life
Hart and Cohle celebrate a solved case; Papania and Gilbough confront the detectives with new intelligence.
1 h 1 mins · Sun, 16 Feb 2014
Episode 6
Haunted Houses
Maggie reveals Cohle's activities in 2002, when his relationship with Hart fractured and he quit the force.
1 h 3 mins · Sun, 23 Feb 2014
Episode 7
After You've Gone
Hart and Cohle investigate a string of disappearances that may be tied to the Dora Lange murder.
58 mins · Sun, 2 Mar 2014
Episode 8
Form and Void
A new lead guides Rust and Marty to a secluded Louisiana address, where they finally meet the man who has haunted them for almost two decades.
1 h 0 mins · Sun, 9 Mar 2014